GREG, LAURA, ROADKILL, KAYLA AND KELLY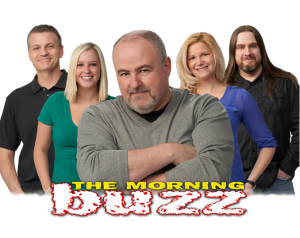 WANT TO GET YOU INTO THAT LET'S GET STUFF DONE AT WORK GROOVE!
CHECK OUT THE NEW! BUZZ MUSIC BLITZ!
EVERY WEEKDAY MORNING AT 10!
IT'S 45 MINUTES OF UNINTERUPTED COMMERCIAL FREE ROCK!
WITH NEW ENGLAND'S #1 MORNING SHOW!GREG AND THE MORNING BUZZ
ANDEVERTHING THAT ROCKS 1071 FRANK-FM!