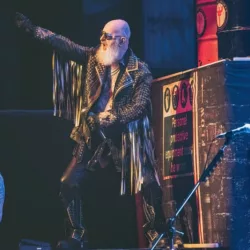 Judas Priest will launch a North American tour in the spring in support of their upcoming album, Invincible Shield, due out on March 8, 2024.  Invincible Shield, the band's 20th studio album, marks the band's first LP since 2018's Firepower. The first track from the LP, "Panic Attack," came out last month; and the band just released "Trial By Fire", the second single from the album.
The Invincible Shield Tour kicks-off on April 18 in Wallingford, Connecticut, and includes 20 dates in cities ranging from Newark, Boston, Mobile, Alabama, and Albany, New York before ending May 22 in Syracuse, New York.  The band posted via social media: "Invincible Shield Tour. USA 2024. Artist Presale: Wednesday, November 15 @ 10am local (pw: METALGODS)" Swedish metal band Sabaton will open all shows on the Judas Priest tour in 2024.
To pre-order Invincible Shield, head here.
You can take a listen to 'Trial By Fire' – here.
Tickets for Judas Priest's Invincible Shield Tour on on sale now via Ticketmaster.
Editorial credit: J.A. Dunbar / Shutterstock.com