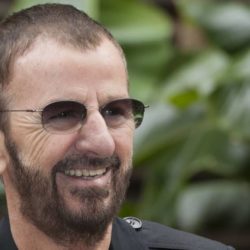 Ringo Starr will release a new hardcover coffee table book, titled "Lifted – Fab Images and Memories in My Life With the Beatles From Across the Universe," on February 14.  The book's proceeds will benefit the Lotus Foundation charity, and will be available exclusively online at Julien's Auctions.
Starr said in a statement: "I am not writing this book as a Beatle historian. I'm writing this book as a Beatle — and there's only a couple of us who can do that,"  He added: "These fantastic images came back to me in recent years from here, there and everywhere — online and off — and have somehow helped me get back to seeing my life with the Fab Four through fresh eyes. A lot of the photos in this book I spotted on my phone and on my computer, and 'lifted' them because they brought back so many fabulous memories. In recent years, I'd gather these Beatles photos that I sometimes barely remembered."
Starr has enjoyed revisiting the Beatles era in photographic form, saying: "But along with great projects like Get Back, seeing so many of these amazing Beatles images has really brought back those days to me, and all the love and friendship that we four shared back then. So this is a book full of Beatle images that many people haven't seen and stories that I'm sharing with a little help from my longtime writer friend David Wild. We've all been through a pretty tough time for a lot of people who've been locked down, and this book has really lifted my spirits and took me back to where I once belonged in a whole new way. And in the end, that's why this new book is called Lifted. The Beatles changed my life forever. So it's about getting back and giving back."
Head to Julien's Auctions official website for more information.
Editorial credit: Featureflash Photo Agency / Shutterstock.com