Betty B.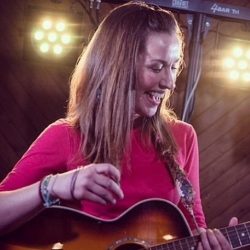 I grew up in a small town in New Hampshire, so moving to Vermont felt like home! Although, there was quite a bit that happened in between: after studying music education in college and joining the Marine Corps (Semper Fi!), I toured the world and ended up in Albuquerque, New Mexico. From there I traveled a bit more, playing music and floating the river. I finally found Vermont after living in a dry cabin in Alaska.
I started in radio 4 years ago and FELL IN LOVE. The fact that someone wanted to PAY ME TO TALK when I do it so much naturally was a dream come true. I love all types of music, from Beethoven to Bryan Adams. I am also a HUGE animal lover (as my 6 dogs will tell you). If I'm not talking up a storm on the airwaves, you can find me on the river or in the mountains.
FUN FACTS ABOUT BETTY B:
BIRTHDAY: May 23, 1982
FAVORITE FRANK ARTIST: Iron Maiden!
FAVORITE CLASSIC ALBUM: Houses of the Holy
THE BEST ROCK CONCERT I EVER SAW WAS: Iron Maiden and Dio (RIP)
FAVORITE BOOK: Anything by August Borroughs
FAVORITE ARTISTS: Norma Jean, Billy Holiday, Iron Maiden and Biggie Smalls (don't judge)
CELEBRITY LOOK-A-LIKE: Katherine Heigl, only because she has the BIGGEST LAUGH
FAVORITE MOVIES: 300, Donny Darko, Best in Show
FAVORITE TV SHOWS: Orange is the New Black!
IF YOU WERE NOT A DJ WHAT WOULD YOU BE? I'd be touring the world with my keyboard and my guitar.
WHAT'S YOUR MOST ANNOYING HABIT: I tend to interrupt a lot…..but it's only because I have a lot to say!
FAVORITE FOOD: MEXICAN FOOD. Specifically NEW Mexican Food. All the chile rellenos.
WHERE IS YOUR DREAM VACATIONLAND: Okinawa, Japan!
FAVORITE VERMONT HANGOUT: I have a private river spot that I would tell you about, but then I'd have to kill you.
FAVORITE THING ABOUT WORKING FOR FRANK: I literally get paid to talk about and play my FAVORITE music in the world. Like, hello. How amazing is that???