Deveney Choquette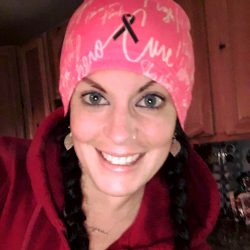 I grew up in the Northeast Kingdom of Vt…way up NORTH…we're talkin' the Canadian BORDER- north. Drive to Canada, put your car in reverse and you're there. Literally. It's in the middle of nowhere but IT'S AWESOME.
I started in radio 6 years ago…fell into it actually… the minute I got into the studio and that "ON-AIR" sign started flashing, they couldn't shut me up. It was LOVE at FIRST TALK. I've always been a "talker." I used to get in trouble all the time in school for talking…and now, I get paid to do it. All those trips to the principal's office paid off. I always told my mom they would. Booyah!I love ROCK, the Celtics, chocolate cake with PB frosting, Chris Farley, clowns, and the Teenage Mutant Ninja Turtles – my favorite turtle is Raphael…I'M ALL ABOUT THE BADBOYS.
Yup, that's me…in a CANDY-SHELL. (Who wants to be in a nut-shell?)
EMAIL: DCHOQUETTE@GREATEASTERNRADIO.COM
FUN FACTS ABOUT DEVENEY:
BIRTHDAY: December 10, 1982
FAVORITE FRANK ARTIST: TESLA!
FAVORITE CLASSIC ALBUM: Psychotic Supper
THE BEST ROCK CONCERT I EVER SAW WAS: Bet you can't guess?!?!…Tesla 😉
FAVORITE BOOK: Anything by Dan BrownANYTHING BY DAN BROWN
FAVORITE ARTISTS: Tesla, Goo Goo Dolls, CCR, Rush
CELEBRITY LOOK-A-LIKE: Kathy Ireland
FAVORITE MOVIES: Step Brothers, 300, Nightmare Before Christmas, anything with Chris Farley in it!
FAVORITE TV SHOWS: Duck Dynasty, Family Guy, Grey's Anatomy
IF YOU WERE NOT A DJ WHAT WOULD YOU BE? A Clown…I Always wanted to be a clown.
WHAT'S YOUR MOST ANNOYING HABIT: I Talk…A lot…some might say too much…
FAVORITE FOOD: Anything with the word 'cake' in it…except carrot cake, that's just wrong.
WHERE IS YOUR DREAM VACATIONLAND: Somewhere tropical.
FAVORITE VERMONT HANGOUT: The NEK!
FAVORITE THING ABOUT WORKING FOR FRANK: I get paid to listen to kick-a$$ music – All. Day. Long. (And talk about it!) It's pretty amazing.