Greg & The Morning Buzz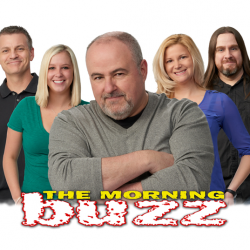 Greg – The "Godfather." Thats what they call me. Some even say there's a "Soprano" resemblance. I dont see it. I've been doing mornings here since 1987. In radio years, that qualifies me to be a Jurassic Park exhibit, I think. But having Roadkill, Laura, Kelly, and Kayla there each morning keeps it fun. We hope it does for you too….
As for me I'm just a normal guy in an abnormal job. I've got a great wife, 2 great kids, and a job that lets me play for a living. Yeah, that doesn't suck…..
Hope you enjoy the page and if you got questions then ask em! I'll try to answer all of em once I get em!
Best, G
---
Roadkill – Hello all My name is Roadkill and I 've been doing radio since 1994, and part of The Morning show"Greg and The Morning Buzz since 1998 (thats when all the fun started). I am a metal/rock drummer and I have two daughters, Nora and Sadie. Life has changed for me in recent years as I juggle being a drummer, father and a on-air smart ass. When I do get a few minutues to crash in front of the t.v, I enjoy watching movies!
I have played in Three very well known local (Metal) bands Recognizer, D.C.M and my lastest Flood This Earth. My drum influnces are Johnny Tempesta , Jason Bittner, Shannon Larkin, Lars Ulrich, Derek Roddy, Kevin Talley, Chris Adler, Dave Lombardo, Tim Yeung, Gene Hoglan, Flo Mounier, Buddy Rich, and Animal from the Muppets really anybody who plays the instrument I can watch and steal some drum licks from.
People ask me all the time what was my career hi-lites, and I have to really think about it for awhile, interviewing Rob Zombie, Bruce Campbell, to flying in a WW-2 bomber with Greg, Laura and my dad (world famous Pat McMullen), to opening for Motorhead, Slipknot, BLS,Megadeth,As I Lay Dying and Mudvayne. And of course announcing the names of my daughters when they where born. It's been a great ride and I'm pretty sure I have forgotten most of it.
---
Laura – Hey, what's up? So I am Laura, born and raised in Hooksett, NH. I am thirty-three and have been a part of the Morning Buzz for eleven years now! I started in radio when I was nineteen on a show called Sports Soundoff on 610am. I have been married to a great guy from Hooksett named Jeff since 2006. We have two sons! Parker was born on March 25th, 2011. He was 8lbs 8oz and is the most wonderful boy in the world. He's very loveable and affectionate! Dylan was born on January 24th, 2015. He was 7lbs 9oz and looked just like his older brother! He's starting to come into his own and so far he's a great little dude! He will definitely be the class clown! He loves to laugh and loves to make everyone else laugh. Life has changed in the best way for us and I can't imagine a day without them.
I love to be outside and obviously spending time with my boys. I cheer for the Pats, Sox and Celtics (I am not much of a hockey or nascar fan, but I am trying to learn). My beverages of choice used to be nice cold beers and Jack Daniels (on the rocks). As I am getting older and the lack of sleep with the little ones I am happy with a glass of pinot grigio or any red wine. (Then I am out like a light! I still miss those days of drinking and not having to wake up 🙂 Favorite foods: I love eggplant parmasean and shephards pie and for dessert, cheesecake. I enjoy relaxing at home, we get up way to early to be out too late on work nights. Jeff and I love going to music festivals and we are very excited to bring the kids along for all the fun! We love music and hope that they enjoy it as much as us. My favorite singer of all time is Janis Joplin. I even had a cat named Joplin growing up. Some of my favorite bands are Ryan Montbleau Band, Wilco, My Morning Jacket, Spoon, Lettuce, Brett Dennen, and Mumford and Sons. There are so many more, but I can't name them all!
For things I don't like, hmmm . . . I try to be very upbeat and not to hate too much, but like everyone I have my pet peeves. I can not stand cocky, macho types who think they are better than everyone. I don't like when I have a "toe wedgie" (when your socks get wedged between your toes). It absolutely will make me go mental. I have had to pull over to fix it on the side of the road!
I guess that is all I will give you for now. I am just a normal NH girl! Email me at laura@morningbuzz.com
---
Kelly Brown – I've been with the Buzz since inception and got my start in radio at WUNH in Durham and then at 92 CDQ "Mount Rialto Radio" in Sanford, Maine (yes, in the "Elegante Ballroom!"). I pretty much love being on the Buzz except for working with Roadkill.
Family: My beautiful daughter Chloe and Sparky the dog. And we'll never forget Crazy Jake the Cattle Dog and Scouty the Beer drinkin' Half Hound (otherwise known as "dipsh*!" and "psychodog")……and our old Great Dane Thor (185 pounds and full of love….and slobber).
Latest CD's that have been stuck in my car stereo: Billy Joel's Songs In The Attic and Warren Zevon's Excitable Boy.
I love to read!…On my bookshelf now: Joe Drape's American Pharoah & Tom Coyne's A Course Called Ireland.
Pet Peeves: Light beer, Fake maple syrup and donuts that aren't deep fried.
I Dream about: Vacations in Ireland……..playing bad golf and then drinking a good stout at some pub in Dingle or Dublin….or Ardglass or Lahinch…..or Tralee or Portrush……ahhhh…..I need to go back.
---
Kayla Winsor – Hey all, my name is Kayla Winsor. Quick bit about me, I'm a Maine girl- born and raised in Sanford but I consider myself a NH transplant. I got my start in radio by interning here at Clear Channel NH while I was at UNH. I instantly fell in love with radio and knew it was what I wanted to do with my life, so after I graduated in 2011 I convinced my boss to hire me and have been working here ever since.
I'm a pretty simple chick..My life revolves around work, my family, sports and my kitten. (I'll admit it, I'm a crazy cat lady and I have no shame) A perfect weekend in my world involves 3 things: Famly, Beer and Football.
Sometimes all it takes is one opportunity to get things started and I am so stoked to get the chance to talk to you all every day on The Rock Station!
Read more: http://rock101fm.iheart.com/onair/kayla-51740/#ixzz4aoegyyYR