Randy Lee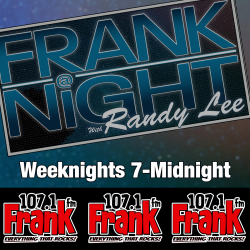 Born and raised right here in Central Vermont! I attended Spaulding High School until 2010 and then began studying Communications at Norwich University where I began
radio at the campus station WNUB. In January 2013, I joined the team at Frank FM and have been here ever since!!
Email: rlaprade@greateasternradio.com
FUN FACTS ABOUT RANDY:
BIRTHDAY: March 12
FAVORITE FRANK ARTIST: Bon Jovi
FAVORITE CLASSIC ALBUM: Slippery When Wet
THE BEST ROCK CONCERT I EVER SAW WAS: Bon Jovi's Bounce Tour
YOUR FAVORITE RADIO STORY: Ahh, yes, I remember that time at Stuff-A-Truck 2012 when I heard that we were bringing in a second truck to fill! It just reminded me of how gracious Vermonters are…donating enough food to fill one truck and begin the next is incredible. I look forward to the coming years and seeing this grow more and more.
DO YOU HAVE A NICKNAME AND IF NOT WHAT WOULD YOU LIKE IT TO BE? My friends give me so many nicknames…If I were to write them all here, you would be reading this for at least the next week.
HOBBIES, COMPULSIONS OR WEIRD HABITS? In my free time, what little I have, you'll find me with a camera in my hand working on some crazy project that I have conjured up. It's so much fun but usually pretty time consuming.
FAVORITE ARTISTS: Bon Jovi, Motley Crue, Kiss, Def Lep, Aerosmith
CELEBRITY LOOK-A-LIKE: I get Taylor Lautner a lot. I don't know why.
FAVORITE MOVIES: Shutter Island, The Town, The Departed
FAVORITE TV SHOWS: Nashville, Survivor, Big Brother, The Middle, King of Queens
IF YOU WERE NOT A DJ WHAT WOULD YOU BE? If I wasn't a DJ I would be a photographer or graphic designer. I spend a lot of my free time with my computer thinking of new ideas and working with my photos! I am always trying to learn something new! Maybe I would even dabble a little in television!! Who knows!!
WHAT'S YOUR MOST ANNOYING HABIT: Over planning / over thinking everything.
FAVORITE FOOD: Tacos, Chinese, and Subway rotated on a three day schedule would be perfect.
WHERE IS YOUR DREAM VACATIONLAND: Somewhere South. Love the look of snow but not a big fan of those low temps
FAVORITE VERMONT HANGOUT: Some back road in the middle of nowhere with the windows down and the music up. These days make the best summers.
FAVORITE THING ABOUT WORKING FOR FRANK: Getting to talk to Central Vermont five days a week! I love being on the air and the guys at Frank-FM have given me so many opportunities; I just can't thank them enough!!