TJ Michaels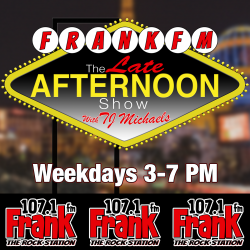 As a kid, I used to walk around interviewing the family with a spoon! I've always known what I've wanted to do with my life. I started my career with a microphone at the age of 10 calling bingo numbers at the Turbotville Volunteer Fire Department. By the time I was 14, I owned my own mobile disc-jockey business and started on the air at 1050 WLYC in Williamsport Pennsylvania. While in college I worked at just about every station in that town and then spent some time at WNEP-TV and some radio stations in Scranton PA. TV was fun but nothing beats radio! In my carreer I worked all over Pennsylvania and spent 3 years in Gainesville Florida! In 2002 I came to Vermont and have been with Frank ever since! This is all rather boring so here's what you really need to know about me: I'm a regular guy with a wife and 3 kids that I couldn't live without, just trying to survive! I love music, movies, sports, politics and trivia. I grew up in Central Pennsylvania and am a Penn State University Alumnist!("WE ARE PENN STATE!") I love my job and I love talking and interacting with listeners!
EMAIL: tjmichaels@greateasternradio.com
FUN FACTS ABOUT TJ:
BIRTHDAY: FEBRUARY 16, 1973
FAVORITE FRANK ARTIST: KISS!
FAVORITE CLASSIC ALBUM: Man that's tough…can I pick more than one? Aerosmith- Toys in the Attic, Zeppelin – Houses of the Holy, The Who –Quadraphenia, Def Leppard – Hysteria
THE BEST ROCK CONCERT I EVER SAW WAS: Monsters Of Rock 1988 Tour, Philadelphia
YOUR FAVORITE RADIO STORY: There are so many…I have to pick one? I once lived 100 feet in the air, strapped to a billboard for 3 days to raise money for the Make A Wish Foundation. Just a tip: It's very tricky to ummmm….use the necessary from 100 feet in the air!)
DO YOU HAVE A NICKNAME AND IF NOT WHAT WOULD YOU LIKE IT TO BE? "THE TEEJ-INATOR" (coined by comedian Bob Marley)
HOBBIES, COMPULIONS OR WEIRD HABITS? Nascar, NFL, Music and Whatever my wife and kids are into! I collect antique radios! I am obsessive compulsive, I have to do things a certain way!
FAVORITE BOOK: Arguing with Idiots by Glenn Beck
FAVORITE ARTISTS: Kiss, Def Leppard, Van Halen, Aerosmith…I could keep typing all day!
CELEBRITY LOOK-A-LIKE: You Tell Me…
FAVORITE MOVIES:  This is where is gets GEEKY!  Star Wars, Anything Monty Python (SHE'S A WITCH!) ,  I like good comedy.
FAVORITE TV SHOWS:  American Pickers, Pawn Stars, Top Gear, Ghost Hunters, Face Off, Storage Wars, American Restoration…If it sounds like I'm pitching the History Channel…I am…I just don't have an interest in any of the produced drama or sitcom TV anymore…Not sure why? However, I really enjoyed Rescue Me with Dennis Leary and they took that off…I'm a huge Jack Bauer Fan and can't wait for 24 to return!  I'm also a closet Muppets fan…I love watching the old Muppets shows with my kids!
IF YOU WERE NOT A DJ WHAT WOULD YOU BE? For a period of time David Lee Roth even went back to it!  At age 16 I was an EMT and Firefighter…If I had not been bit by the Radio bug that's what I would be doing.  I grew up in a fire service family.  My Mom was one of the first female firefighters in our town and was a paramedic and my dad was an electrician for Pennsylvania Power and Light, but also was a firefighter at the Power Plant.
WHAT'S YOUR MOST ANNOYING HABIT: Ask my wife…pack a sammich and schedule some time…She could probably answer this question over the corse of a week or so!
FAVORITE FOOD: I could eat Pizza everday for the rest of my life…It should be its own food group!
WHERE IS YOUR DREAM VACATIONLAND: The Florida Keys!
FAVORITE VERMONT HANGOUT: 5 words!  Thursday Night at Thunder Road!
FAVORITE THING ABOUT WORKING FOR FRANK: It keeps me from having to get a real job! Actually, using the airwaves to make our part of Vermont a better place to live with programs like Stuff-A-Truck and The Co-ed Winter Softball Tournament!