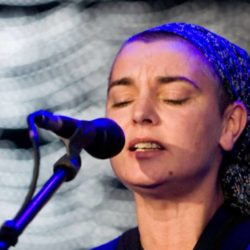 "Nothing Compares," a documentary about the life and career of Sinead O'Connor, will be released in theaters in New York and Los Angeles on Sept. 23 for a one-week run that qualify it for Academy Award consideration. The film's theatrical release will come days ahead of the docu's Sept. 30 Showtime streaming and on-demand debut.
Directed by Kathryn Ferguson, the 97-minute film traces O'Connor's rise to worldwide fame after "Nothing Compares 2 U" was released in 1990, as well as the Irish singer's eventual exile from pop mainstream after she tore up a photo of Pope John Paul II on "Saturday Night Live" in 1992. The docu also examines other headline-grabbing controversies.
The film is Ferguson's documentary feature directorial debut. She shares: "In 2018 in Ireland, we were gearing up to the abortion referendum, and we just had the equal marriage referendum a few years prior, so it just felt absurd that Sinead's voice wasn't part of the conversation. She was somebody who had been so bold and brave and who really kicked the door down, particularly (in Ireland). I felt like she needed to be part of the conversation, and it felt quite urgent."
Take a look at the trailer for 'Nothing Compares' – here.
Editorial credit: Dariusz Majgier / Shutterstock.com