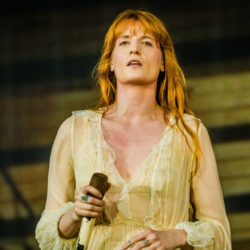 Florence + The Machine frontwoman Florence Welch's musical adaptation of F. Scott Fitzgerald's classic The Great Gatsby is ready to make its theatrical stage debut next year on Broadway next year. Simply titled Gatsby, the show will premiere at Harvard University's American Repertory Theater in Cambridge, Massachusetts in 2024.
Welch is collaborating with producer Thomas "Doveman" Bartlett to write the lyrics and music for the project. The book for Gatsby was created by Pulitzer Prize-winning playwright Martyna Majok, with Tony Award winner Rachel Chavkin directing and fellow Tony winner Sonya Tayeh providing choreography.
Said Welch: "This book has haunted me for a large part of my life. It contains some of my favourite lines in literature. Musicals were my first love, and I feel a deep connection to [F. Scott] Fitzgerald's broken romanticism. It is an honor to have been offered the chance to recreate this book in song."
For information, head to https://gatsbybway.com/.
Florence + The Machine's 'The Great Gatsby' musical to premiere in 2024
Editorial credit: Ben Houdijk / Shutterstock.com