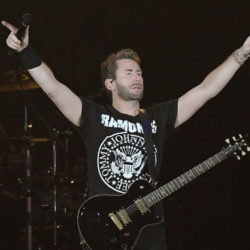 Nickelback have debuted the second single from their forthcoming new album Get Rollin', which is set for release on November 18th via BMG.  The single, "Those Days" reminisces about youthful adventures. You can check out the lyric video – here.
"Those Days" is the follow-up to their recently released track "San Quentin," which is gaining momentum on the rock charts.  Nickelback's 10th studio record Get Rollin will be available via standard and deluxe digital and physical forms on November 18. In addition to "Those Days" and "San Quentin," the album will feature an additional nine new songs, all written by Nickelback.  The deluxe edition will add four bonus tracks – acoustic versions of "High Time," "Just One More," "Does Heaven Even Know You're Missing?" and "Horizon."
To pre-order Get Rollin', head here.
Editorial credit: A.PAES / Shutterstock.com