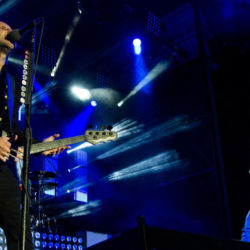 Shinedown has released the official music video for their new single "A Symptom Of Being Human", which is taken off their most recent studio album "Planet Zero".
Frontman Brent Smith had this to say about the song, "'A Symptom Of Being Human' is a deep breath in the face of an ever-changing world. Everyone's story is different. As human beings, we are all unique, and that's what makes us individuals … We will all experience highs, and lows in our lifetime. We will all be put to the test, and the challenges of everyday life. So embrace it, don't run away from it. Live every moment to the fullest, and don't worry… It's all just a symptom of being human."
Watch the video for Shinedown's "A Symptom Of Being Human" – here.
Editorial credit: txking / Shutterstock.com